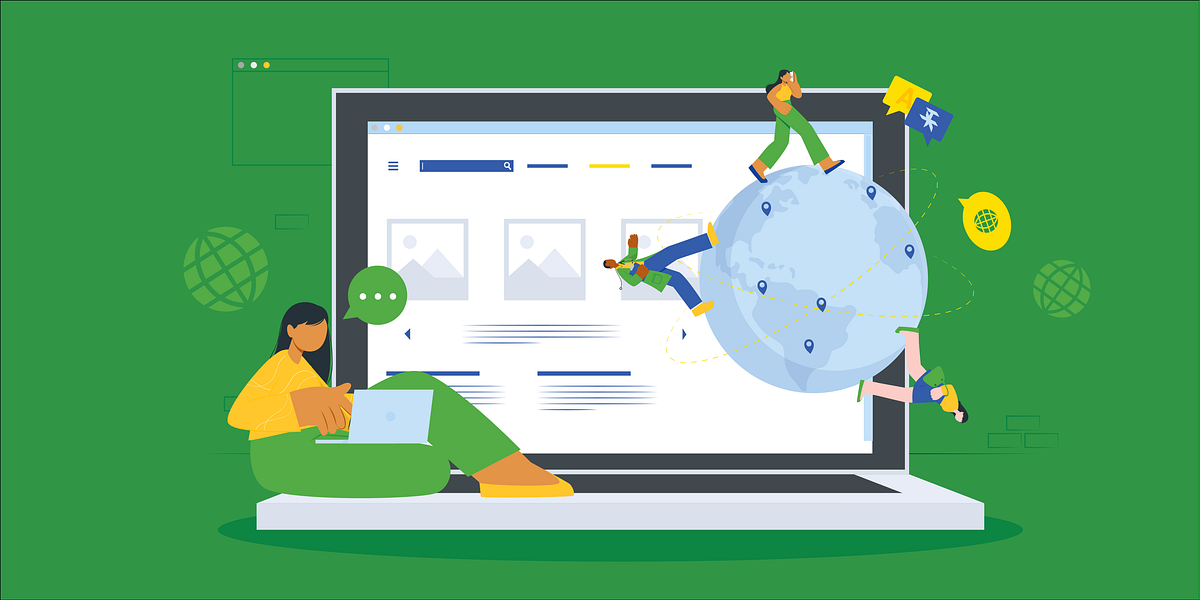 4 ways website localisation can help you tap into new global markets
An effective website is one which doesn't just list your product or service offering, it communicates the meaning behind your brand. Companies put a lot of work into (and spend a lot of money on) ensuring that their brand messaging is attractive to their target audience.
But what about when you want to enter a new market? It's not enough to simply translate your current content word for word. You need to ensure that the terms you use have the same meaning in the target language, you need to be aware of cultural differences, you need to understand the specific way your target demographic uses their language. In short, you need a localisation service.
Localisation is a more in-depth process than translation, taking into account the images, structure and language of your site and adapting them to a new audience. It encompasses a wide range of changes, from choosing the most effective calls to action, to adapting cultural references for a new audience, to using the right currencies or measurements.
There are four key benefits to having a properly localised web presence, which we'll explore in more detail below:
1. Build trust with your prospects (before your competitors do!)
As with many aspects of business, the "first mover" advantage is significant. If you're competing with other businesses who haven't localised their content, or have done a poor job of doing so, getting your own website properly updated could give you the jump on the opposition.
As the first properly localised business in your sector, you'll create an anchor bias in your prospects' minds, setting the bar for how they think a website in that sector ought to look. That first encounter is vital in building a lasting impression, so you need to be certain that all your content is 100% correct before launching.
The reward is that, later you'll find it easier than your competitors to attract and convert prospective customers, because:
They got to know your company first, so it seems the most authentic
They have positive associations of viewing your website content
The content reflects their own use of language and cultural touchpoints
2. Target the heart as well as the head
Being obliged to communicate in a foreign language reduces or removes the emotional aspect of decision making, a study by the University of Chicago has found. The reduction in emotional resonance which occurs when customers are operating outside of their first language can increase psychological distance and increase deliberation - which creates a barrier between the customer and the brand message.
Basically, if your website is not properly localised, you're making the prospect work harder, and you're making your branding and calls to action less effective, so you're going to see a significant drop in your conversion rate. This is supported by a recent survey by Common Sense Advisory, which revealed that 75% of consumers prefer to use their native language when making a purchase.
As Nelson Mandela once put it:
'If you talk to a man in a language he understands, that goes to his head. If you talk to him in his language, that goes to his heart.'
3. Match up your business expansion with current international trends
The top ten most popular languages on the web account for 76.3% of worldwide Internet traffic. So localising your site into these ten languages alone gives you access to over three quarters of the world's population online. However, for the most cost effective approach to localisation, you should look at the areas with most growth.
For example, current research dictates that within the next two years, consumers in the Asia-Pacific region (the majority of them from China) will account for over 50% of all international purchases made via the web. Localising your website into Chinese will give your business access to much of this market, with just under 15% of Internet users citing this as their preferred language. Working with a professional localisation service will allow you to ensure that as well as correctly translating your content, your messaging is correctly adapted to Chinese culture and business practices, which can differ significantly from those in Western nations.
Another high growth region which you should be aware of is Latin America. Here, experts suggest that cross-border purchasing online is set to grow by over 40% during the next few years, building to a total of US$71.34 billion.
Internet consumers in the region are generally young, with two thirds under the age of 35, and tech savvy, preferring to browse and purchase via smartphones rather than desktop or laptop devices. As part of any localisation strategy you'll want to ensure your brand and content are optimised for mobile devices, and the language used appeals to, and is reflective of your target age range.
4. Boost your online search ranking
Using a free service like Google Translate to create international versions of your website may seem like a quick fix to the problem of localisation, but in the long run it's likely to cause you problems.
The content output by these types of tool is generally extremely poorly structured, and may not even make sense in the target language. In terms of key phrases, you'll likely be targeting the wrong ones using word-by-word translation, so you could end up losing rankings, increasing your bounce rate or even being penalised by Google or Bing for providing a poor user experience.
Professional localisation services work to improve your rankings, by researching the best way to translate your offering into terms which are actually used by the new audiences you're targeting. This in turn means your prospects will spend more time engaging with the content on your site, and you'll be able to improve your conversion rate. This helps to build your reputation with the search engine providers.
Pro tip: Getting started
A great place to start if you're considering localising your content is to find out as much information as you can about the international profile of your website. For example, tools such as Google Analytics allow you to find the answers to important questions like:
Where are my visitors coming from?
How long do they stay on the site?
How many pages do they visit?
What's the bounce rate?
Do they follow the calls to action?
As a preliminary exercise, you can use tools like this to identify the top 5 countries your prospects are coming from, the language or languages they use, and compare this to your business plan. You may find an important emergent market that you had previously overlooked.
To address new markets, it's absolutely vital that you localise your website content comprehensively and professionally, otherwise you're at risk of missing out on a significant proportion of potential new business.
Think of it as an investment in your future business in your selected region, and ensure you consult a localisation service with experience and proven results in the relevant language and culture, as well as a similarly qualified web design agency to assist with any changes.
About Wordminds
Wordminds is a close-knit team of language experts – professional translators, project managers, localisation engineers and business visionaries who work closely with global clients, helping them connect with their international audience. Wordminds works with over 3,000 language specialists and subject-matter experts to enable companies to overcome cultural and language barriers, helping them build trust and create long-lasting business and human relationships. Fully certified under ISO 9001 and ISO 17100, the company believes in continuous improvement and so stands at the forefront of new language-technology implementation, smart collaboration and excellent customer service. Find out more about Wordminds at www.wordminds.com.
Join our Newsletter
Stay up to date with the latest articles, news and translation insights
---