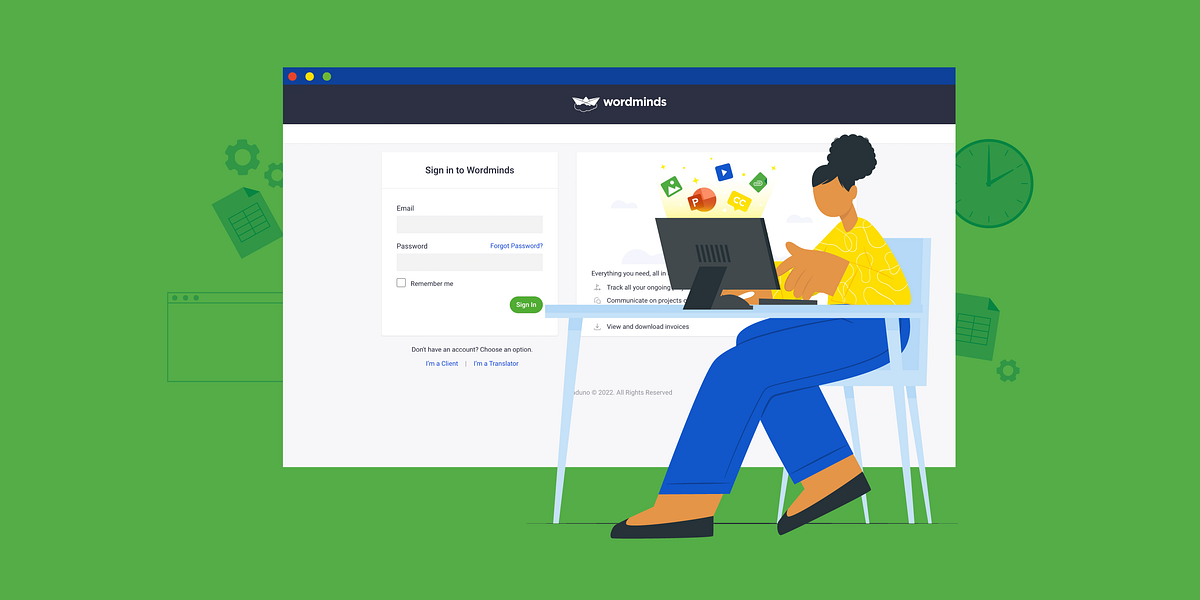 How Wordminds Client Portal can help you stay efficient and organised in translations
If you and your team manage translation requests for your company or department, you probably know how hectic things can become when you try to scale up. Suddenly your mailbox is inundated with email messages including source, reference, translated, or updated version files that become scattered across inboxes. Tracking multilingual deliveries and monitoring deadlines becomes a project management challenge. With no solution in place, something will eventually be mismanaged.
Here at Wordminds, we have the project management experience firsthand and know exactly how and where things can go wrong. That's why we developed Wordminds' Client Portal - a software solution that helps our clients translate efficiently, stay organized, and save time.
Wordminds' Client Portal is a digital portal created to efficiently organise all translation requests, ensure uninterrupted communication, and decrease service delivery time. This single access point allows you to integrate your enterprise translations across global departments, locations, and teams.
Wordminds has been empowering global companies to translate all their materials over the last decade, and today we're going to explore how they can continue to do this in a more quick, easy and transparent way by listing the benefits of using our Portal.
1. Full trackability
All translation requests are consolidated in one single place, where you have full visibility on project status, expected deadlines, delivered files, costs, and project discussions. All project-related files (including source files, references, and translated files) are gathered in dedicated threads, being easily findable and accessible, while having full visibility on updates and their implementation. Trackability of status, deliveries, and project communication enhances process transparency and lays a solid foundation for general process continuity.
2. Managed communication
It takes as few as two people to start a collaboration, so when an entire team works on content that is going to be translated, a lot of communication, clarifications, and adjustments are expected to happen regularly. As it is important to keep everyone involved onboard, the Client Portal has project-dedicated threads where the people involved can discuss, advise, clarify and confirm, thus avoiding production bottlenecks.
Good to know: the client portal is synced with your email inbox, so you will be able to find the same tidy thread both in your email and on the platform, reply directly from your inbox, and never miss an important message.
3. Cost optimization
With budgets approved for a year ahead, you probably need to keep track of all your translation expenses. Wordminds' client portal offers full visibility of all your translation costs and keeps all invoices and their payment status in one place, which will be visible for your finance manager, too.
4. Process centralization
Having the alignment of all your translation content under one account, especially when translations are required across different departments and global offices can help you and your teams work in synergy and enhance consistency across all global content. Translation process centralization reduces enterprise management efforts and improves processes for your procurement department.
5. Data confidentiality
As more team members and departments participate in the translation process, there will always be content that should be kept within restricted access. The client portal provides you with the possibility to create translation teams, each of which has specific corporate access rights. This helps comply with your enterprise's privacy policy and keeps all your translation projects under one project management umbrella.
Janina von Jhering, Deputy Head of Corporate Communications at News Aktuell:
"News Aktuell, as a service provider for the communication sector, has a lot of owned media channels. For these, we always need to translate various content. Since we started to use Wordminds Client Portal, this process became easier to manage for us. The portal helps us track project progress for all involved team members, allows us to find all our original translated files easily, and has an easy-to-use interface. Instead of writing tons of emails, we now communicate with each other through dedicated threads, and this saves us a lot of time."
At Wordminds, we always work to improve our customers' experience. We adapt to your internal workflows while ensuring you have all the options to make them more efficient and sustainable. All your translation-related files stay in one place, and your team is always up-to-date with projects and requests. The client portal helps you to ensure translation process continuity and have more time to focus on other important priorities.
Want to find out if Wordminds Client Portal fits your needs? Let's find out together.
About Wordminds
Wordminds is a close-knit team of language experts – professional translators, project managers, localisation engineers and business visionaries who work closely with global clients, helping them connect with their international audience. Wordminds works with over 3,000 language specialists and subject-matter experts to enable companies to overcome cultural and language barriers, helping them build trust and create long-lasting business and human relationships. Fully certified under ISO 9001 and ISO 17100, the company believes in continuous improvement and so stands at the forefront of new language-technology implementation, smart collaboration and excellent customer service. Find out more about Wordminds at www.wordminds.com.
Join our Newsletter
Stay up to date with the latest articles, news and translation insights
---