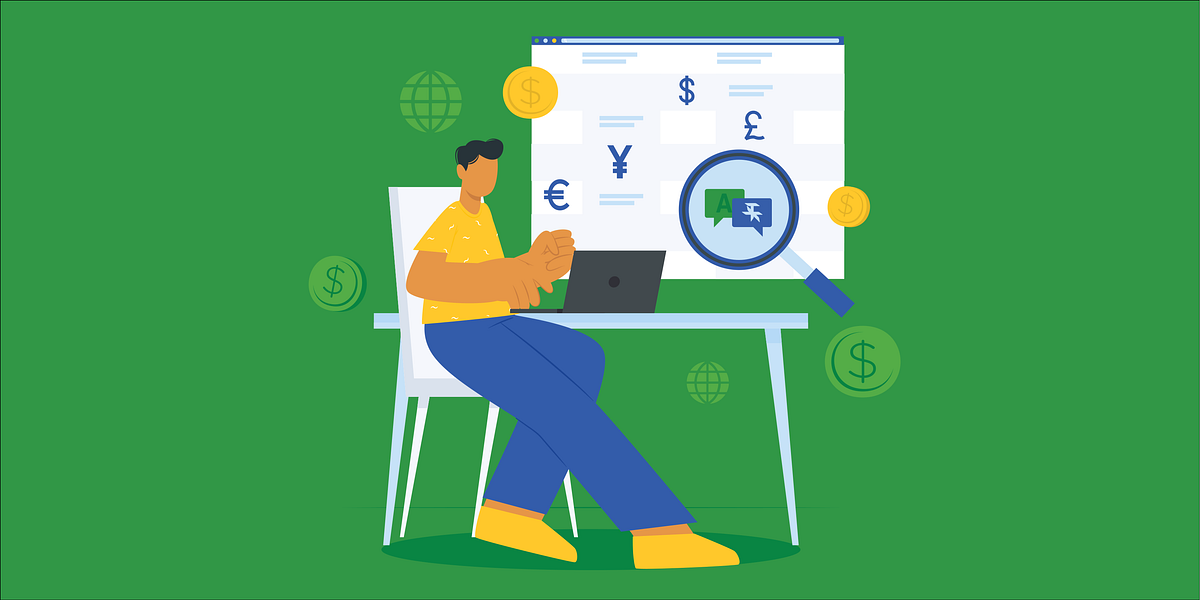 Rates and pricing models in the translation industry
Want to know exactly what document translation costs? How document translation pricing is calculated and how you can save money on translation services? If you've ever had any questions around translation pricing, read on.


Most people who have never worked in the translation industry have a hard time understanding why translations that seem similar on the surface have different prices. There are many factors that influence translation costs: language combination, timeframe, topic, volume, quality assurance, layout formatting, etc.
That's why in the translation industry, a project requires accurate pricing based on its distinctive features. Your language service provider will apply one of these pricing models:
Per word
Per line
Per page
Per hour
Flat fee
Minimum price
Customised
Per word
This is the most popular and common translation pricing model you will find in the industry. Per-word pricing is very convenient for all parties involved because it's simple and the most straightforward way to calculate the number of words, especially if you work with CAT tools like MemoQ and Trados. The price can increase or decrease based on different factors such as volume, urgency, subject area, etc.
2019 Translation Rates
| | | | |
| --- | --- | --- | --- |
| | Lowest | Median | Highest |
| Spanish | 4 ¢/word | 17 ¢/word | 22 ¢/word |
| German | 12 ¢/word | 22 ¢/word | 32 ¢/word |
| French | 9 ¢/word | 23 ¢/word | 30 ¢/word |
| Chinese | 4 ¢/word | 10 ¢/word | 13 ¢/word |
| Japanese | 18 ¢/word | 32 ¢/word | 40 ¢/word |
| Korean | 9 ¢/word | 18 ¢/word | 32 ¢/word |
| Italian | 7 ¢/word | 18 ¢/word | 26 ¢/word |
| Russian | 4 ¢/word | 14 ¢/word | 19 ¢/word |
| Portuguese | 7 ¢/word | 17 ¢/word | 25 ¢/word |
*Pricing is in USD for translation from English into the aforementioned languages.
Tip: It is always a good idea to ask your project manager how the word count is calculated and what factors determine the cost.
Per line
In some European countries, prices are based on standard lines and the target language for the translation. A standard line contains 55 characters including spaces between words. Per line prices vary from EUR 1.50 to EUR 2.20.
Let's take German as an example. When you translate a text from German into English, the target text is going to have more words than the source text.
Many agencies prefer to charge according to DIN (Deutsches Institut für Normung) Standards, where 1 line equals 55 characters with spaces in the target language. In this case, the calculation of the number of lines can be easily done even in Word. One has to click on the "Word Count" tool to see the number of words, characters, lines, paragraphs, and the number of pages.
This pricing model gets tricky when you compare the rates for the number of words and lines. For example, in the case of English to German translation assignments, around eight words fit in one line of text.
Tip: If you need a translation from a language where the words are lengthy, choose a translation partner that offers a per-word pricing model.
Per page
Some language service providers charge based on the number of pages the document contains. Per page pricing works well for documents where an electronic word count cannot be obtained. A good example of this would be any documents that were scanned to a PDF file, such as medical records, court documents or old books. Per page translation usually starts at $100 for one page because the translation team will work on recreating your document in an editable format. So, if your document contains tables, graphs, and schemes, your translation partner will need time and effort to recreate the content, and this affects the cost.
Tip: We recommend submitting your content for translation in an editable format whenever possible.
Per hour
It's difficult to price translations using an hourly rate since skilled translators will complete jobs faster for less money while more inexperienced linguists will get paid more for the same amount of work. For this reason, per hour pricing is suitable for editing and updating content that has been translated already. It's also the best pricing model for transcreation and copywriting services, as well as for any services that require creativity.
Tip: If you want to translate creative content that requires the usage of specific words, slang and style, choose the hourly pricing model.
Flat fee
A flat fee can be agreed upon when it comes to translating CJK (Chinese, Japanese, Korean) texts. Per word and per-page pricing models don't make sense for these projects because many times an entire phrase is captured in a single character. Overall, it's not the most preferred pricing model because it creates pricing ambiguity.
Tip: If your language service provider charges you a flat fee, open up a discussion on how the price is calculated. Your account manager will provide you the details and explain why this pricing model applied best for your project.
Minimum price
Minimum fees are charged for projects that contain up to 250 words. This happens because management costs can often outweigh the actual cost of translation. Good service providers exert the same amount of effort for small projects as they would for larger ones. However, to continue operating optimally, language service providers need to set a minimum price to manage those overheads.
Tip: To cut translation costs group documents with low word counts together to avoid minimum charges.
Customised
Your translation partner might offer a customised pricing model when your project is complex. The following factors might affect the pricing of your project:
subject matter complexity, content that can be translated only by a specialised expert;
language pair combination, rare languages are more expensive;
quicker turnaround times might increase the rates by 50%;
project management fees. A project manager will be required to plan the budget, track the workflow to ensure the project is completed on time, and control all the phases of the project;
fees for editing, proofreading, and layout formatting services. These services require more human resources.
high-volume projects may be eligible for a discount – think documents or groups of documents with more than 10,000 words.
Tip: When you plan a long-term relationship with your translation partner, check with your account manager if you are eligible for a discount.
Now that you've learned about pricing models and the factors that influence pricing in the translation industry, you're fully equipped to start your next translation project with a better understanding of where your money goes. If you have questions about translation pricing, get in touch with us.
About Wordminds
Wordminds is a close-knit team of language experts – professional translators, project managers, localisation engineers and business visionaries who work closely with global clients, helping them connect with their international audience. Wordminds works with over 3,000 language specialists and subject-matter experts to enable companies to overcome cultural and language barriers, helping them build trust and create long-lasting business and human relationships. Fully certified under ISO 9001 and ISO 17100, the company believes in continuous improvement and so stands at the forefront of new language-technology implementation, smart collaboration and excellent customer service. Find out more about Wordminds at www.wordminds.com.
Join our Newsletter
Stay up to date with the latest articles, news and translation insights
---