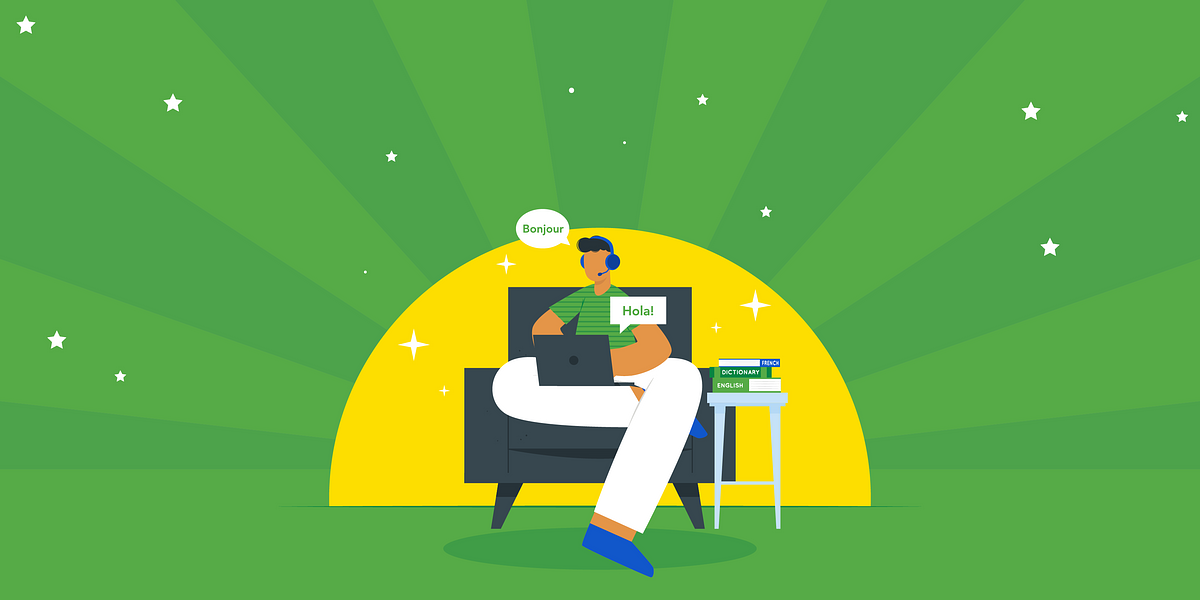 The rise of global corporate e-learning
Online learning for businesses — also known as corporate e-learning — has risen swiftly over the past few years. With the proliferation of scattered teams and client bases, it's become an invaluable way to train staff, demo products and share knowledge in a globalised world.
Today there are more than 7,000 languages spoken across the globe. For international businesses, translating learning and development content is an essential way to build trust and maximise engagement among employees and clients.
So let's take a closer look. What is corporate e-learning and why should you be translating it?

What is corporate e-learning?
E-learning is defined as any structured learning experience that is delivered electronically, and typically involves the use of multimedia. When applied in a corporate setting, online learning can be the perfect solution to the logistical challenges of sharing and managing knowledge across expanding workforces and client bases.
Significant shifts in the way we work, learn and connect have posed a serious threat to the predominance of presencial corporate training. When expanding internationally, businesses have had to evolve their methods for rapidly onboarding talent and engaging prospects. Corporate e-learning content is accessible anywhere, is cost- and time-efficient to produce, and can be scaled across multiple languages and platforms.

What are the benefits of corporate e-learning?
With corporate e-learning content, HR departments can easily drive company-wide development initiatives and seamlessly support new recruits through necessary accreditations. Offering a range of multi-format activities from quizzes and polls to downloadable resources and video, it can boost engagement and drastically speed up the knowledge acquisition process. Digital training resources are also trackable and transparent, giving your development team insights into participation and completion rates and therefore enabling them to improve training plans in the future.
For external outreach, e-learning is an optimised format for showcasing the value of your products and services. From product demos and tutorials to troubleshooting, online training content can help your clients and prospects to experience your offering in a personalised way and build confidence both pre- and post-sale. It's also an easy and cost-efficient way to share updated information on new software iterations or product applications and can boost hands-on interaction with your brand.

Why translate your corporate e-learning content?
When developing a global company, your onboarding and educational materials should be at the front of your mind. Establishing shared values and making all target users — whether staff or prospects — feel seen and included is essential in building a robust culture and driving brand affinity.
Localising your e-learning material will ensure your content is relevant and accessible for all users, no matter where they live and work around the world — or the language they learn best in. Translated product demos and guides (or subtitling options) can help to build trust with new customers quickly and enhance their understanding of who you are and what you have to offer.
With the normalisation of remote contracts and the continued boom of e-commerce, it's no wonder the size of the global corporate e-learning industry is projected to grow to 37 billion USD by 2026, from 17.2 billion in 2019. With that in mind, let's take a closer look at the benefits of translating your online learning content and how language services can help you to maximise its value.
Increase engagement
Translation of e-learning modules removes a barrier to entry and puts the focus entirely on the content itself. With dubbing or subbing, users can engage directly with the subject at hand in their most proficient language and fully connect with the topic. Localising demos can also situate the product in a relatable context and make your solution feel easily usable in a prospect's local market.
Enhance comprehension
Without translation, you risk not getting your message across. Lack of understanding and misalignment is a key contributor to workplace delays and can mean the difference between a prospect enjoying and sharing your product or disregarding it forever. A trusted language partner can help you to ensure your online learning content is culturally and tonally appropriate and portrays your message in an easy-to-understand, digestible format, regardless of audience.
Drive inclusion
Delivering native-language and localised content helps to transcend barriers and support diverse recruitment. With the resources in place to rapidly onboard and align contractors, third parties and staff from all over the world, your business can benefit from a wider talent and partner pool. By investing in translation services for your corporate e-learning materials, you can ensure your resources are globally accessible, thereby maximising their scope and value.

How can we help?
Localised e-learning content enables your business to meet the unique opportunities and challenges of a transformed digital world and can increase engagement and comprehension of your most important materials.
Corporate communication styles are not the same the world over, but a trusted language service provider (LSP) can help you to make a valuable impact wherever your e-learning content is delivered.
Want to find out more about how an e-learning specialist can help you? Talk to us about your next e-learning project.

About Wordminds
Wordminds is a close-knit team of language experts – professional translators, project managers, localisation engineers and business visionaries who work closely with global clients, helping them connect with their international audience. Wordminds works with over 3,000 language specialists and subject-matter experts to enable companies to overcome cultural and language barriers, helping them build trust and create long-lasting business and human relationships. Fully certified under ISO 9001 and ISO 17100, the company believes in continuous improvement and so stands at the forefront of new language-technology implementation, smart collaboration and excellent customer service. Find out more about Wordminds at www.wordminds.com.
Join our Newsletter
Stay up to date with the latest articles, news and translation insights
---