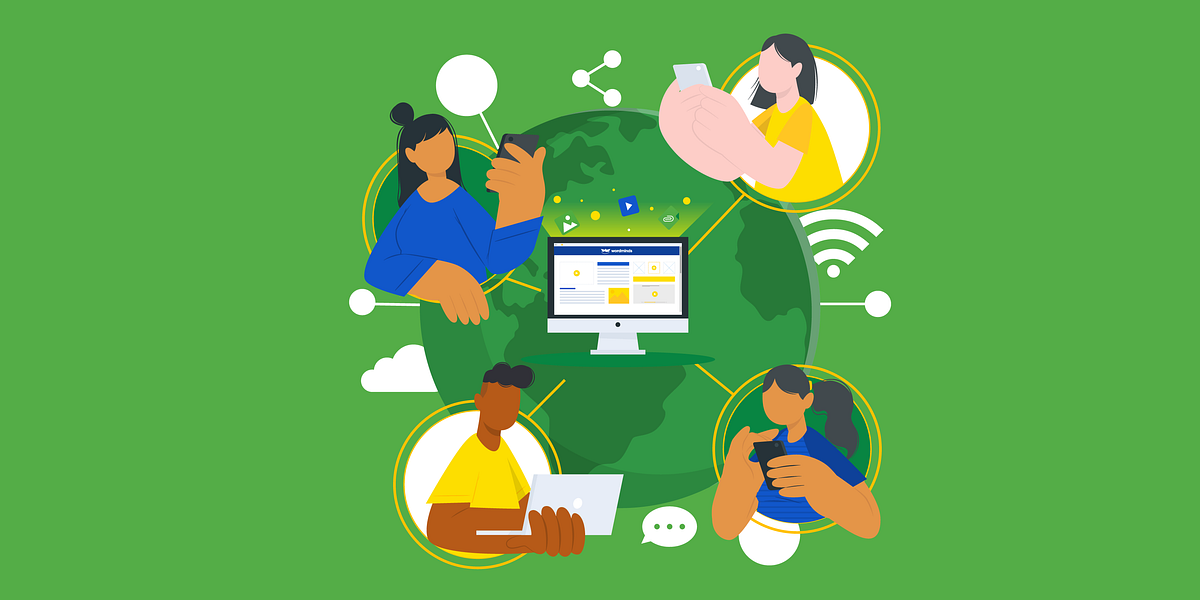 Why does your business need digital content?
The digital world is just a click away – and it's one many of us are using from the minute we wake up to the moment we go to sleep. Whether we're buying, selling, socialising or relaxing, the way we spend our time has drastically changed over the past few years.
But what does this mean for businesses? Gone are the days when simply having a website would suffice. Consumers are looking for brands with an extensive digital presence that builds trust. According to HubSpot, 47% of buyers will view up to five pieces of content before speaking with a sales representative.

Translating this content is key too. It gives people from all over the world the opportunity to connect with your services and discover your brand. You can check out our handy guide to scaling your business through digital media translation to help you get started with this.

Let's take a look at why does your business need digital content, and how can you leverage it to elevate your growth.
Get to know your audience
Before you can expect customers to buy from you, they need to learn more about your offering.
Previously this might have meant spending money on billboards or paying for print space in magazines and leaflets. Not only is this slow, time consuming and one dimensional, it's difficult to understand what's resonating with your audience and what drew them towards your brand in the first place.
Digital content allows you to track and monitor exactly how your audience is responding to your output. Whether it's your website landing page, social media post, video or podcast, you can easily dive into the stats of your content. You'll learn what's popular, what people want more of and what's just not working.
Create better connections with tailored content
Once you know exactly what appeals to your audience, you can begin to create content that's tailored to them. By focusing on content that resonates with your customers' situation, pain points and burning questions, your business can deliver more value to them when they need it most.
According to the famous 'rule of seven', it will take, on average, seven interactions with your brand before a prospect converts. While this could take weeks or months advertising offline, digital content allows you to achieve this in a matter of days. Put simply, it offers a straightforward, cost-effective and time-efficient way of reaching your customers on a regular basis.
Build a loyal customer base
Having a strong online presence also opens up a world of opportunities for showcasing and sharing your brand's unique value. You can use digital content to share real-time behind-the-scenes snippets with your following, introduce customers to your international team and embrace the power of multimedia to unveil new products in creative and engaging ways.
Combining these techniques with localisation services can help you expand your message beyond language barriers and offer high quality, native experiences that resonate with bespoke audiences around the globe.
Digital is here to stay
Digital growth and adoption, accelerated by the pandemic, is continuing to rise. E-commerce sales are forecast to grow by 50% over the next four years and the number of internet users worldwide rose to 4.9 billion in 2021, from 4.6 billion in 2020.
Even if you're not selling online, building a strong digital presence is an essential part of attracting and retaining consumer interest in the long term. Investing in high-quality (and especially multilingual) content will empower your brand to create lasting connections with your prospects no matter where they are, and drive greater returns in the years to come.
Did you know? You can use digital and multimedia content translation to reach new audiences and break into new markets. Why not get in touch for a free conversation or request a quote if you have a particular project in mind already.

About Wordminds
Wordminds is a close-knit team of language experts – professional translators, project managers, localisation engineers and business visionaries who work closely with global clients, helping them connect with their international audience. Wordminds works with over 3,000 language specialists and subject-matter experts to enable companies to overcome cultural and language barriers, helping them build trust and create long-lasting business and human relationships. Fully certified under ISO 9001 and ISO 17100, the company believes in continuous improvement and so stands at the forefront of new language-technology implementation, smart collaboration and excellent customer service. Find out more about Wordminds.
Join our Newsletter
Stay up to date with the latest articles, news and translation insights
---